N-Soft unlocks
government
revenues.
As a long-term partner for governments in emerging economies, we enable them to maximize their income by plugging gaps in their resources without raising any additional taxation.
For more than ten years, we have produced innovative technology solutions, enhancing
governments' ability to supervise the data from major digital sectors, including telecoms, finance,
mobile money, and commodities.
N-Soft is much more than a GovTech company. It is a committed partner working hand in
hand with governments throughout the process – acquisition, fast implementation, and smooth daily
operation. The potential income from these sectors, which are the central pillars of emerging
economies, is substantial and has enormous implications for each country's economic prospects
Since 1986 we have built up a network of highly trained staff members based in Africa, Asia and
Europe with a flourishing R&D department and headquarters in Hong Kong.
Creation of N-Soft Interactive Voice Server Development
Operates in 15 African countries
N-Soft becomes Digital Sector Supervisor
N-Soft is the official Digital Sector Supervisor for Democratic Republic of Congo, Mozambique, Mali, Cameroon, the Central African Republic, Somaliland, Burundi, and Chad.
Meet our team
Our Company
N-Soft uses its advanced solutions to generate extra
Government revenues without raising taxes. In ten years of
working with emerging states, N-Soft has built substantial
expertise in creating innovative technological solutions
providing essential support to national budgets.
Our solutions allow governments to see where income is
leaking away, improve their credit standings and their ability
to govern effectively.
Contact Us
The DRC welcomes Dr. Roger Zini, CEO of N-Soft
The DRC welcomes Dr. Roger Zini
...
, CEO of N-Soft, with our latest proposal to supervise major digital sectors for improved quality governance in their country .
"Invest Cameroun" magazine
Alex-Ariel Tchetgnia, VP of Professional Services at N-Soft
...
, interviewed with "Invest Cameroun" magazine and shared his insights on the latest tax trends and challenges regarding mobile money usage in Africa.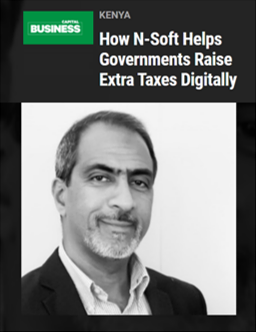 Mr Sabunani interviewed by Capital Business Kenya
Mr Prakash Sabunani VP and Partner at N-Soft, was interviewed by
...
Capital Business Kenya on how our governance solutions, bring visibility on revenues generated by the digital sectors to enable governments to collect the exact amount of taxes owed to them with our real-time.
Need more details? Contact us
We are here to assist. Contact us by phone, email or via our social media channels.