The DRC welcomes Dr. Roger Zini, CEO of N-Soft
The DRC welcomes Dr. Roger Zini
...
, CEO of N-Soft, with our latest proposal to supervise major digital sectors for improved quality governance in their country .
"Invest Cameroun" magazine
Alex-Ariel Tchetgnia, VP of Professional Services at N-Soft
...
, interviewed with "Invest Cameroun" magazine and shared his insights on the latest tax trends and challenges regarding mobile money usage in Africa.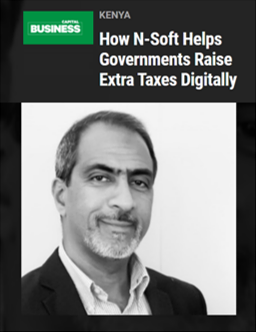 Mr Sabunani interviewed by Capital Business Kenya
Mr Prakash Sabunani VP and Partner at N-Soft, was interviewed by
...
Capital Business Kenya on how our governance solutions, bring visibility on revenues generated by the digital sectors to enable governments to collect the exact amount of taxes owed to them with our real-time.
Need more details? Contact us
We are here to assist. Contact us by phone, email or via our social media channels.